This price is the 50% deposit required with pre-order. The price with the line through is the full price.
We'll invoice you for the remaining 50% when the frame is ready to ship.
Regular price
$2,325.00 USD
Regular price
$4,650.00 USD
Sale price
$2,325.00 USD
Unit price
per
Sale
Sold out
When choosing a shock, please select the correct spring based on your weight with riding gear on. Typically gear weights 10lbs. If your weight is below or above our spring options, please purchase the frame with no shock and email us. We will try to help you out with custom shock.
Share
View full details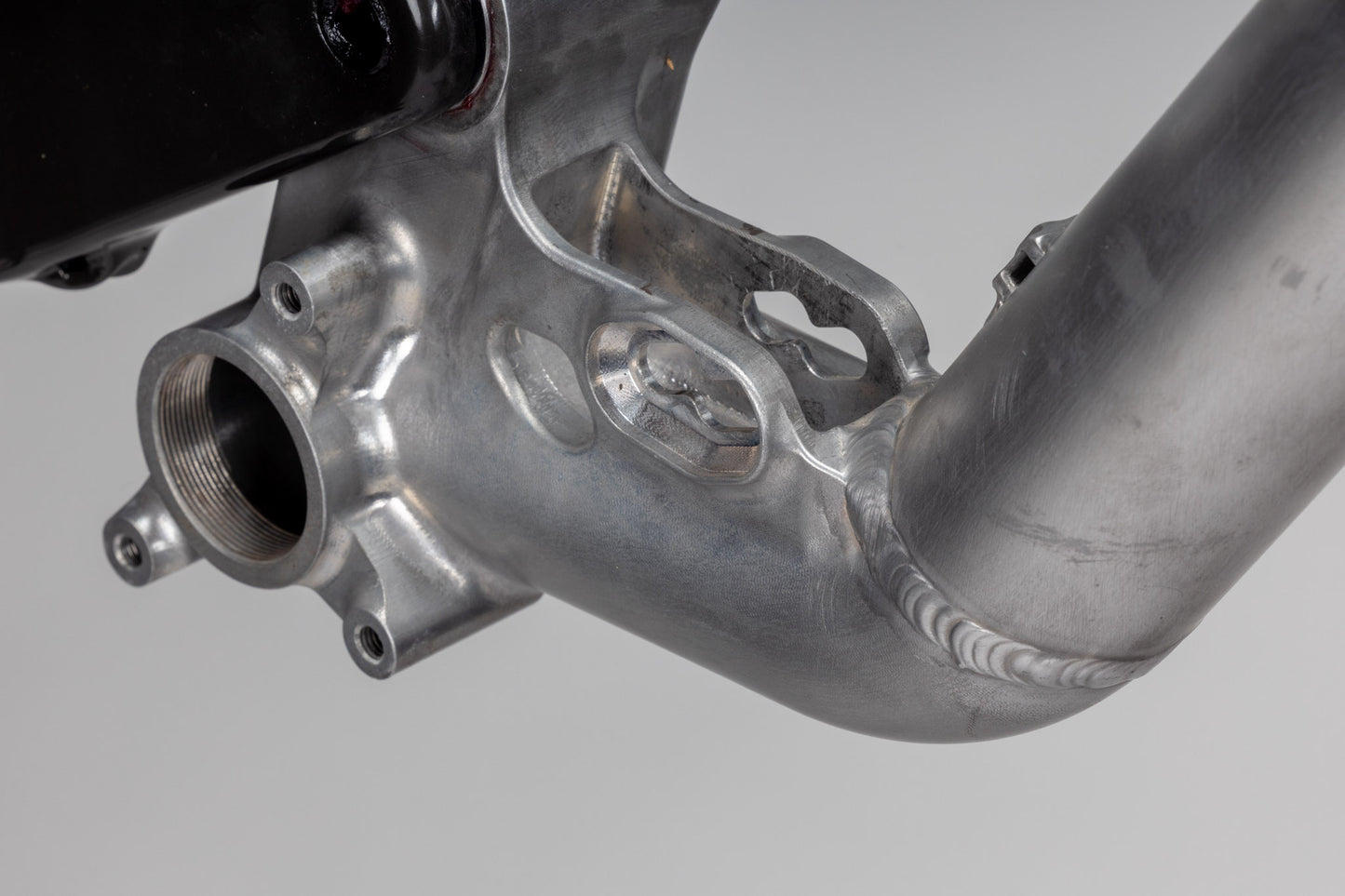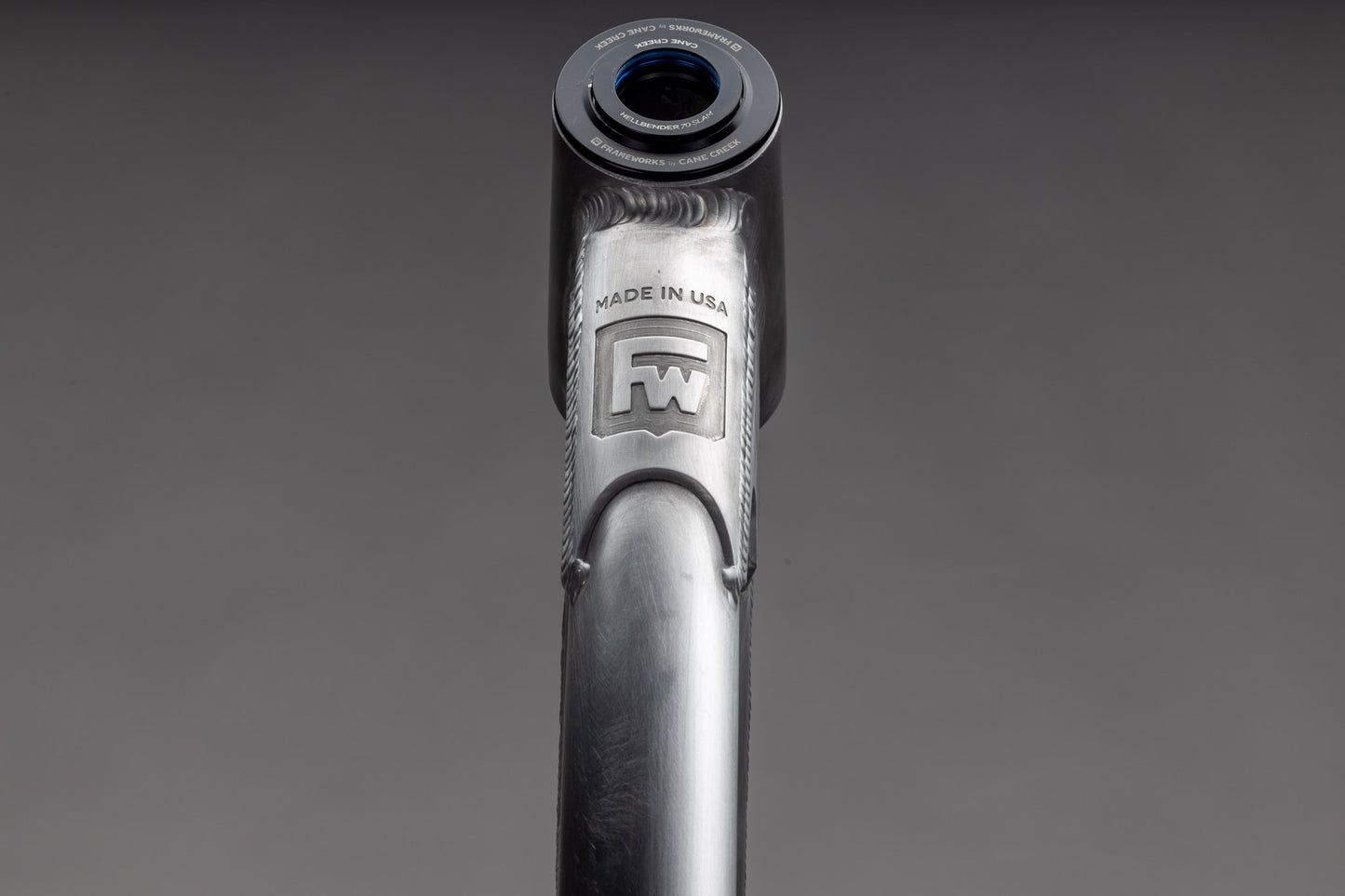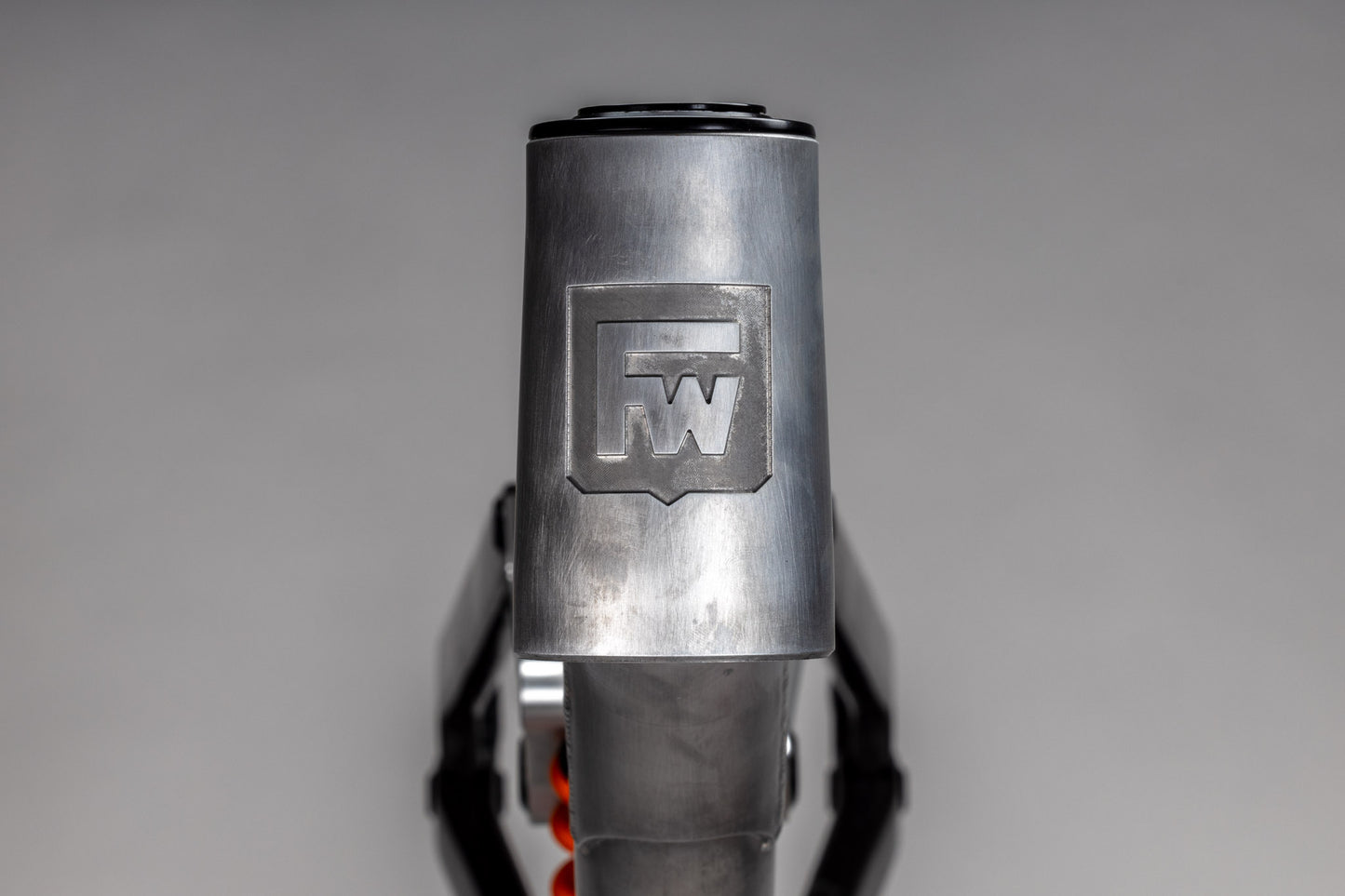 Collapsible content
Geometry
Frame Specs

Frame Specs: 

Material: Aluminum 6061 T6 Front Triangle; Aluminum 7075 T6 Links and Hardware; Carbon Fiber Chainstay and Seatstay

Wheel Size: MX (29 Front; 27.5 Rear)

Rear Hub Spacing: 148x12 boost

Shock Size: 250x75

Shock Hardware: 30x8mm Top; 20x8mm Bottom; 20x8mm Shock Extender (Standard Mounting Hardware)

Bottom Bracket: 83mm Threaded

Rear Brake Mount: 200mm Post Mount

Seat Post: 31.6mm 

Seat Post Clamp: 38.6mm 

Headset: ZS56 Top / ZS62 Bottom

Chainguide: ISGC-05

Cable Routing: External

Frame Weight: 4.11kg / 9lb 1oz

Bearings: 

Main Pivot: 6003 (17x35x10) 2

Rocker Pivot: 6902 (15x28x7) 2

Chainstay Pivot: 6802 (15x24x5) 4

Seatstay Pivot: 63802 (15x24x7) 2
Goals

Our goal for this bike was to achieve the suspension kinematics and geometry numbers we found worked best for downhill racing in a predictable and reliable package, the simplest way possible. To achieve simplicity, we went down the road of complexity and back through our testing process to give us a well-rounded perspective. The 4-Bar linkage gives us the tuneability to make the braking and acceleration force's influence on the suspension in an optimal range with a layout that efficiently uses materials without the need to fit things where they don't naturally belong and distributes stress around the frame neutrally. The long links put each pivot location relatively further apart, so with the same manufacturing tolerance as frames with shorter links, our frames are more accurate.
Shock Tunes

The force it takes to move your rear axle is a combination of the mechanical leverage of the frame, the spring, and the damping. To achieve the best performance, those three things need to work together with the rider. Ideally, your axle will move the exact amount it needs to for each bump you encounter. Too much and your bike will feel inefficient or vague. Too little and your bike will feel unsettled or harsh.  Neko and Anxo developed tunes with Fox, Rockshox and Ohlins shocks customized to our frame, specific to the spring rates we offer, to give you the ideal amount of axle movement for the ride feeling we wanted. 

Your shock tune starts with the correct spring rate for your body weight, which you will choose when you order your shock. This gives you the amount of support from the linkage, combined with the spring, to put you at the right place throughout the travel to preserve the geometry we intended and balance the shock with the fork. This allows a window of adjustment with your damping for you to adapt the bike to your preference for each course and condition. We will suggest a rebound tune to match the force of your spring rate, which we worked hard to dial in for each rider's weight and will send you the shock in the middle of your compression adjustment range so that you can tune it to your preference.  

We chose these tunes based on shock shaft speeds that we worked with each manufacturer to achieve from baselines that we developed over the past two years logging suspension data with this frame. Each shock gives us the numbers we're looking for, so we're confident that we can get you off on the right foot with this process.
Material Choice

We found aluminum 6061 T6 to be a reliable material for our front triangles that would give us the strength required with a relatively light weight and desirable feel for racing. Working locally with aluminum gave us the opportunity to make several revisions to our frame throughout the development process, chasing the marginal gains that composite tooling would have made cost prohibitive. For our rear triangle, however, we did commit to a composite mold. The pivot locations on our rear triangle are neutral enough to give us a range of adjustability that we can tune our suspension kinematics with just the pivots shared on the aluminum main frame and rocker link, so locking into a carbon mold did not limit development. Our carbon fiber rear triangle significantly reduces our unsuspended mass (the parts of the bike that move with the suspension) and precisely locates all our pivots, brake mount, and rear hub spacing within a tighter manufacturing tolerance. We chose aluminum 7075 T6 to give us the best strength to weight ratio for all of our pivot hardware, rocker link, and shock extender (all the aluminum parts of our frame that are not welded).
Kinematics

 
FAQ

How does the pre-order work?

When pre-orders open, customers can purchase our frames with a 50% deposit. This gives us the funds to manufacture your frame and it will be delivered after 90 days. We will send you an invoice a week before your frame ships and ship it once the invoice is paid. Deposits are fully refundable at any time (except credit card fees), and your build slot will go to the next person on the waiting list if you decide to back out.

Can I buy a frame if I live in outside the US?

Yes, but please be aware that we are not responsible for any import or VAT required to get the frame into your country. We will happily pack your frame with the necessary paperwork and ship it to you, but we advise you to do the research on the taxes you can expect so that there are no surprises. We cannot devalue the invoice in the box.

Why use a shock extender?

Our shock extender lets us flip the shock reservoir 90 degrees to give us more clearance to the downtube. We wanted to mount the resi side of the shock to the main frame so that the heavy side was not moving with the suspension. Using the shock extender lets us use a standard eyelet 250x75 shock with no proprietary parts. We kept the shock extender as small as possible (24mm) so that it wasn't stressing the shock. 

Why do you offer the Fox DHX shock instead of the DHX2?

Working closely with Fox, we were able to develop a custom tune for our kinematics that gave us the numbers we were looking for in the simpler monotube shock. The adjustment range is smaller than the DHX2, but still gives us a wider window of adjustment than we have used. Neko and Asa raced with this shock the second half of the season.

How does shipping work?

The customer will pay shipping. We have a business account setup with UPS to get the best rates available to us. When we send an invoice for the remaining 50% of the frame cost, we will include your shipping in there. We will also offer local pickup at Rock Creek/Kanuga and Windrock, so if you are local to one of those parks please send us an email and we will get you sorted out.